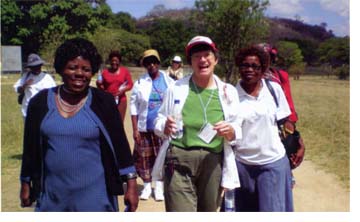 A picture of Marian Gooding, from the Alton United Methodist Church, was on the back cover of the September Response magazine, the national magazine for United Methodist Women. She had been on a United Methodist Women's Ubuntu journey to Zimbabwe. Ubuntu Journeys are unique, short-term mission service opportunities of United Methodist Women to interact with the world through mission partners. We caught up with her at the Alton United Methodist Church and asked about her experience. Marian will happily share this experience with UMW groups in Missouri.
In 2015 Ubuntu Journeys are being offered to Cambodia, Cameroon and Costa Rica. For more information go to www.unitedmethodistwomen.org/ubuntu
Click on the picture to view the MissionCast or download it below.
If you have a video of your SERVE 2014 event and are willing to share it with others through MissionCast, email Max Marble at maxrmarble@gmail.com
Download or View MissionCast
Low Resolution Video (For DSL or Cable)
Higher Resolution Videoo (Better quality viewing than medium resolution)
High Definition (Best quality)
Quicktime Video (for Mac users)

Sign up for a weekly MissionCast announcement by email.
Early every Monday morning we send an announcement about the content of the weekly MissionCast and information about future MissionCasts. If you would like to receive the weekly MissionCast content announcement go to the Missouri Conference website by clicking on the link below and then select "Stay Connected" in the left hand column. http://moumethodist.org/